Archive page - Service no longer offered
This website began in the summer of 2003 and so has seen much content over time. We have made a decision that, for now, rather than delete pages that are no longer being updated, or are for services that we no longer offer, we would instead place them in this archive section to serve as a portfolio, library & as a history

"Special Bits of Wood"
Tree Stumps & Chunky Lumps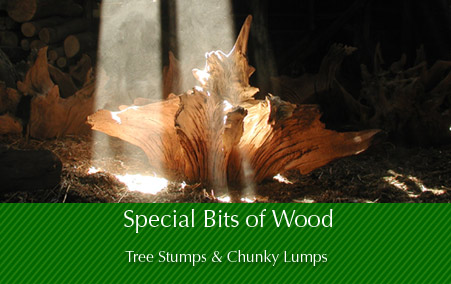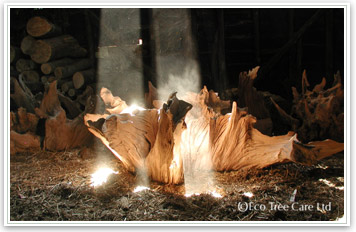 All wood is special

But some bits are more special than others.
We have an eye for wood. Sometimes we come across wood that is so special that it literally takes our breath away.
We can't help ourselves, we collect it, we store it, we save it.
We figure, if we love it, others will love it too.
Take a look at just a small fraction of our "Chunky Lumps" portfolio.
Most of these stumps were destined to be burnt in a big pile by a gamekeeper. Of course it is preferable to leave them in woodlands as deadwood habitat, but where their future is destined for removal or destruction then we prefered to save them.
If you see this wood in the same way we do and you think you have just the spot for a chunky lump, or perhaps an idea for how to display or to use one then call us to arrange an appointment to view.
Prices on application