Archive page - Service no longer offered
This website began in the summer of 2003 and so has seen much content over time. We have made a decision that, for now, rather than delete pages that are no longer being updated, or are for services that we no longer offer, we would instead place them in this archive section to serve as a portfolio, library & as a history

Portable Sawmilling -
North Mymms Church Oak
A Case History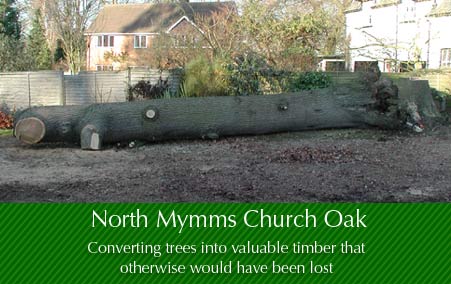 At North Mymms Church, near Hatfield, Herts two oaks had grown side by side for about 170 years. They stood in what is now a car park and on one sunny still day, quite unexpectedly, one of the oaks fell over destroying two parked cars (expensive ones, apparently). Fortunately no one was injured or worse, but it did mean that there was a huge oak tree to be cleared up, and the safety of its sister tree also called into question.
On inspection the fallen oak tree had done so because most of the roots had decayed away under the influence of a fungus of the genus Ganoderma.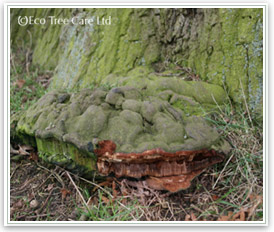 Ganoderma is a root and butt rot fungus,commonly found on our native broadleaf trees. It is often seen on Oak.
This particular species of Ganoderma breaks down the strong stiff ligin within the woody tissue to leave the springy flexible cellulose.
Eventually the weakened base may no longer hold the weight of the tree causing it, as in this case, to fail.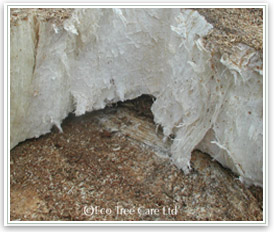 Cellulose and lignin form a lattice-type matrix, akin to steel reinforced concrete.
Cellulose provides the structure with flexabilty, it is soft yet strong in tension.
Lignin provides the structure with rigidity, it is stiff, brittle yet strong in compression.
The photo, right, shows the inside of the base of the oak tree. The white cellulose is soft to the touch similar to marshmellow.
See Firewood page for more details
Its sister tree was also, unsurprisingly, severely effected and its lean towards the neighbouring house gave cause for alarm. It was quickly made safe by being dismantled and felled.
This was a perfect opportunity to bring in a portable sawmill, lovely straight trunks of oak,and in a car park giving excellent access and space to work. On this occasion a Woodmizer sawmill was brought in, this meant it could be towed into position right up along side the trunks.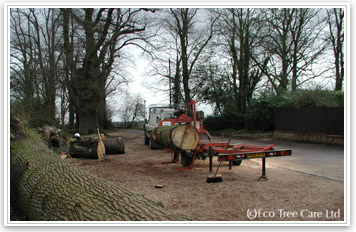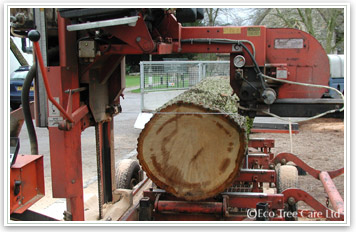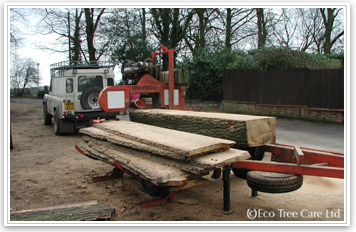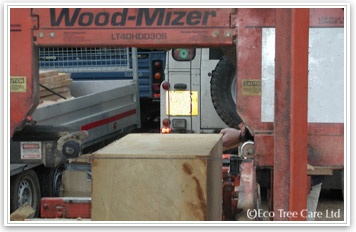 Conversion from fallen tree to things of beauty
It is always a shame when a large mature tree has to be removed, but its loss can be mitigated by converting it into useful wood products. Ordinarly these trunks would have been cut up for firewood and yet the quality and value of the resulting timber on this occasion is self-evident from the photos. These photos demonstrate how with a bit of thought and consideration tree surgery can be made to be much more sustainable and environmentally friendly industry.
The oak from these trees has been sold to furniture makers literally across the country. Martin has also used some of the wood for bespoke projects. Below are some photos of a memorial bench made for a farming family in Essex.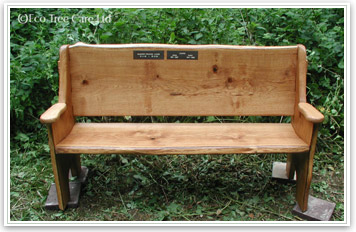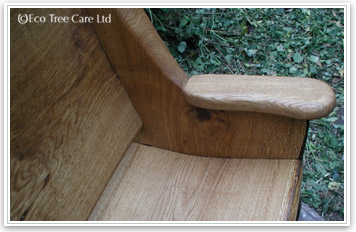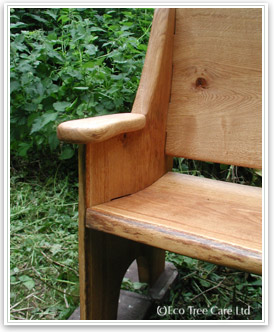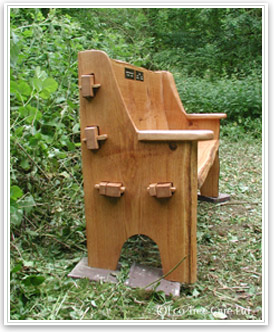 Also made from the same tree was a stand for the Eco Tree Care Fish Tank in the office