Archive page
This website began in the summer of 2003 and so has seen much content over time. We have made a decision that, for now, rather than delete pages that are no longer being updated, or are for services that we no longer offer, we would instead place them in this archive section to serve as a portfolio, library & as a history

Native Hedge Planting
Planting New Hedges and Re-stocking Old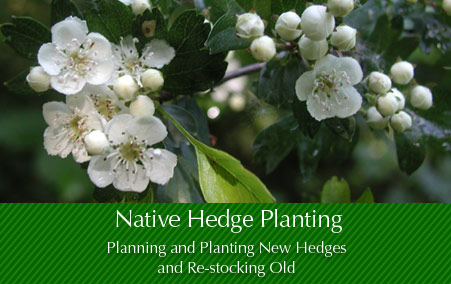 Why plant a native hedge?
Hedges are an important part of our natural heritage, excellent for wildlife and are functional, they provide a natural barrier to keep stock in, mark boundaries, provide security, and as a wind break or to provide a screen.
Many of our hedge rows have been lost in recent decades as agricultural practice favoured larger and larger fields to cultivate. There are now grants available to farmers to replant hedgerows, where before, ironically, there were grants to grub them out! - We are in the business of replanting them.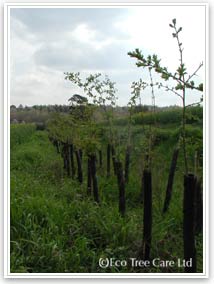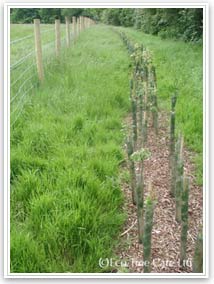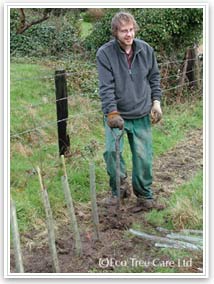 Planting a native hedge in your garden, on or around your land or woodland, is a great way to grow a natural resource for native wildlife and to provide a feature of visual interest. Link below to our guide to the composition of a Native Hedge.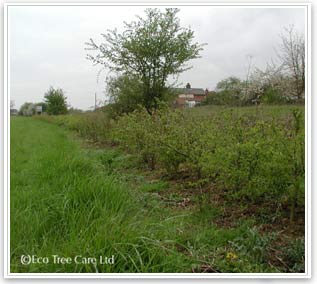 What is a native hedge composed of?
See our guide to the species that can and do make up our native hedges
Hedge compositions and hedging styles change according to the region due to changes in soil type, climate, and the type of stock being kept in the fields, and also how they are trimmed and maintained. For example in Powys in Wales there are some beautiful round trimmed hedges designed to facilitate the snow slipping off of them, whereas in North Norfolk you may find carefully trimmed rectangular hedges.
Hedging traditions have developed in the main according to what stock is being kept in. Generally hedges can be divided into two types - 'sheep fences' and 'bullock fences'. The reason being that it is difficult to design a hedge capable of keeping both types of stock.*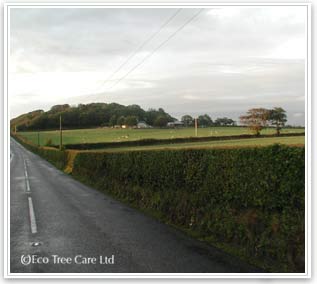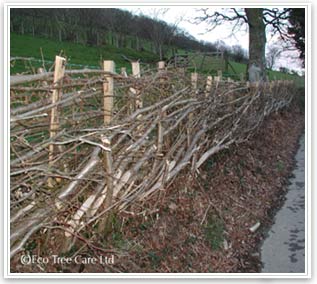 A well maintained west country hedge and a recently laid hedge in Powys, Wales.
Ancient Beech hedge

Dartmoor, Cornwall
Hedge Planting by Eco Tree Care & Conservation
When we were operating we used to plant hedges to our customers specifications, either double or single row with a species mix suitable and in keeping with the locality. Where newly planted hedges must be protected from stock we can also fence off the strip with secure, carefully erected fencing.
Hedging trees were supplied bare rooted during the dorment winter months and are planted before the spring growing season.
We gave advice about planting distances, when to use tree shelters & fencing and of what type. It is sometimes useful to clear the strip to be planted by using a rotavator.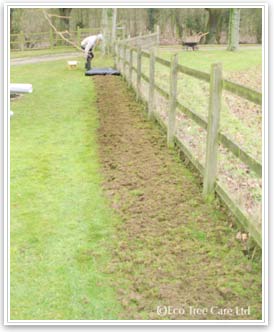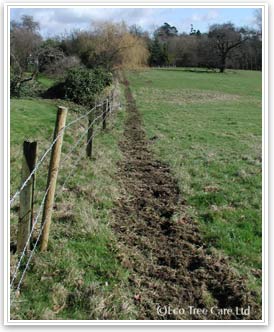 Weeding, Watering, Mulching, Mulch Matting, Herbicide?
When planning a new native hedge it is important to give some thought to the first few crucial years of establishment.
A method will be required to prevent the newly planted hedging trees from being out-competed by weeds. A method will also be necessary to prevent the newly planted hedging trees from becoming susceptible to soil drying during drought periods.
It may be the situation and length of the hedge allows for personal attention throughout establishment. However in many situations where the new hedge can not be regularly cared for provision of a mulch material is advisable. Either a mulch of wood chips or another mulching material. This helps combat competing vegetation and helps maintain the soil moisture around the base of the trees.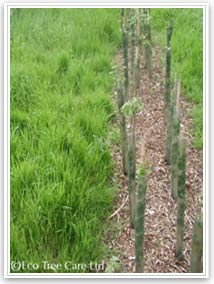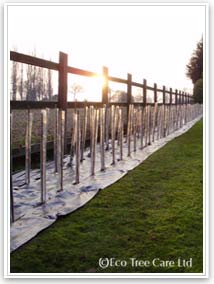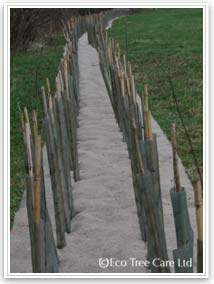 Photos showing some of the many hedge mulching options
1. Woodchip mulch applied along the planting strip
2. Mulch matting made from Woven Polypropylene
3. Mulch matting made from Bio-degradable jute fibre.
All the mulch options have different pros and cons including;

Appearance


Longevity


Permeability to water


Cost


Bio-degradability


Embodied energy and carbon foot-print
Herbicide is often used for large-scale commercial planting projects to keep down competing vegetation. The advantage being that it can appear to be a relatively cheap option, but it does require annual applications by someone.Therefore over the long term it may not prove to be so cost effective. The additional disadvantages of herbicide use are that there is no protection against drought stress as there is no mulch to trap soil moisture and the obvious use of chemicals with the potential for run-off or transportation through the ground water.
In general there are no right or wrong answers. Each particular site and situation requires some thought as to what will be the best solution given the factors sketched out above. With our experience and working knowledge we can give advice and talk through the options.
Hedging Tree Supply
Over the years we had got to know who to source trees from and who, importantly, to avoid. Some suppliers are only middle-men who may store bare-root trees in a cold store, or not even that, prior to dispatch.
We only used trusted suppliers who grow their own trees and who dealt directly with other specialists that actually grow the trees. This way we knew that when we order the trees they are still in the ground. We ordered them for only a few days before planting. They were lifted the day before and dispatched the next day and we recieved them ready to be transplanted in the best of conditions.
A poor supply chain is a common cause of tree mortality. Not only can one lose trees, but also lose the time involved in planting them and re-planting replacements. Plus also losing a year or more's hedge growth.
Good supply is paramount.
Ongoing Mangement
As with any planting scheme, there story does not end with the planting alone. On going management is an important and necessary consideration in order to bring about long term success.
See the Tree planting page - Ongoing management section for more details
* Source: Hedging - a practical handbook BTCV ISBN 0 946752 17 6 www.btcv.org