Archive page - Service no longer offered
This website began in the summer of 2003 and so has seen much content over time. We have made a decision that, for now, rather than delete pages that are no longer being updated, or are for services that we no longer offer, we would instead place them in this archive section to serve as a portfolio, library & as a history

Portable Sawmilling
Recovering valuable timber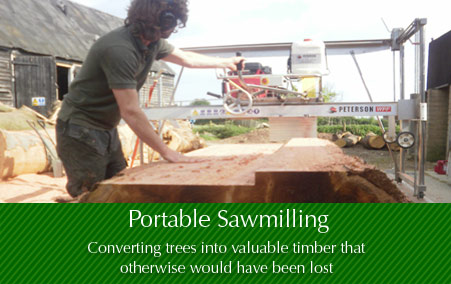 Portable Samilling
We have been sawmilling trees for timber since 2003 when we first used a Portable Sawmill called a Lucas Mill. Since then we have also used a towable Woodmizer Portable Bandsaw where access was possible and have also used a Chainsaw Planking Attachment to mill smaller sized timber which would otherwise have been inaccessible.
Portable Sawmill - Lucas Mill

Portable Sawmill - Woodmizer
We then moved onto a Peterson Sawmill from New Zealand, designed for the rain forests. It was truely portable and allowed sawmilling in difficult terrain of trees upto 1800mm diameter. The tracks upon which the frame runs could in theory be extended to allow milling of trees of exceptionally long lengths if required.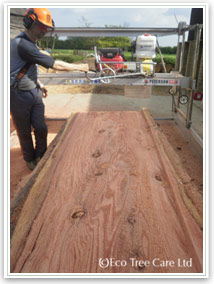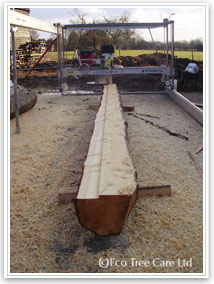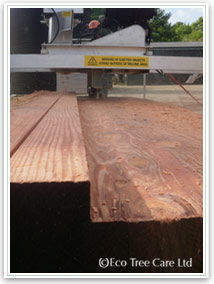 Our Peterson Mill working in our Hertfordshire yard
The result...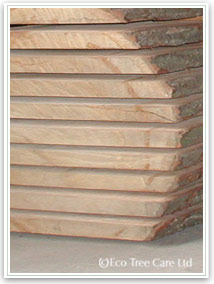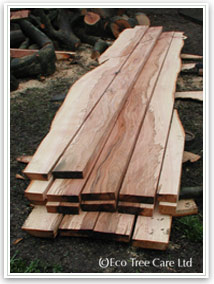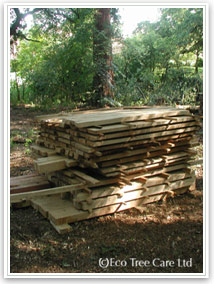 Portable Sawmilling & Tree Surgery
It is a shame that so much great timber is lost during tree surgery. Usually the cut wood is seen as only waste that must be cleared as quickly as possible. Usually great timber is cut up into rings to be split up into firewood, or worse goes to land fill or fly-tipped by the unscrupulous.
We worked with tree surgeons to help recover what we could from trees that had to be felled. Often what could be valuable wood is lost to be burnt as firewood. Instead it is possible to convert this wood into usable and beautiful timber. Our intention was to help to tree surgery a more sustainable and environmentally friendly industry. And of course it just simply makes sense.
Case Histories
See some of our past Portable Sawmilling Work
The North Mymms Church Oak
Thomas Rivers' Giant Redwood